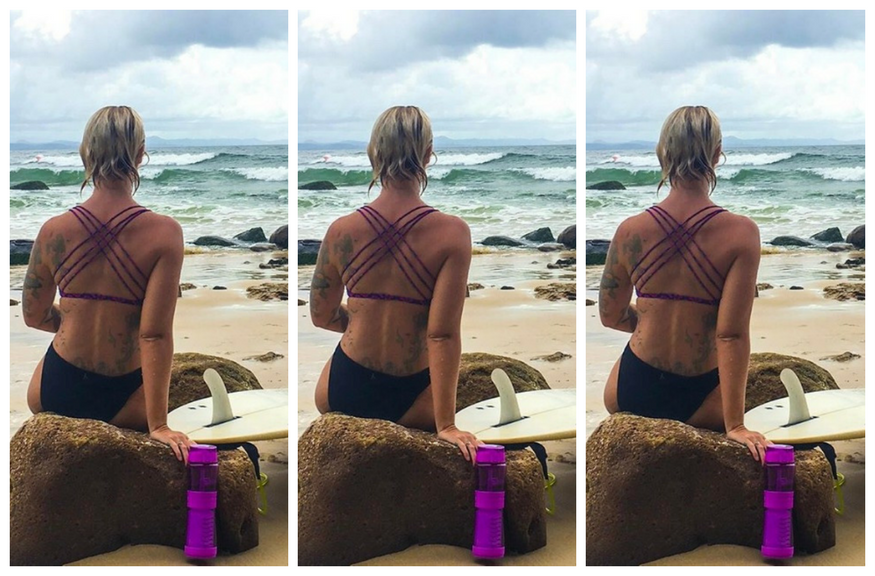 Apr 10, 2017
0 comments
by

April Muir
Wanted to share a great review on our Journey Filter Water Bottle by Jaymie Faber, the original surf gypsy. She's pretty amazing and we are really stoked at how much she likes our filter water bottle. If you don't know Jaymie - she's Australian, a mom, surfer, author, outdoor adventurer and gorgeous! 
***************
Jaymie's Filter Water Bottle Review 
"Ok, so I am about to sound very excited about a drink bottle… But guys, this bottle is amazing and my excitement is truly warranted.  
I drink a lot of water or try to. I'm really active, barely stop and need loads of water to keep me going. I don't need to list the benefits of drinking the recommended 8 glasses - we've all heard it most of our lives. But I find if I don't drink at least 2 litres a day, more when I've been surfing or hiking, I feel it. Headaches, light headedness. Thirsty.
I was always buying water bottles. The plastic re-usable ones from the supermarket or department store never lasted long. 50% of the time I would forget to take them out with me and when on the road I would need to buy bottled water from the shops anyway.

Then, the Team at Sagan Industries, @saganlife, asked me to review their new product – the Sagan Journey Filter Water Bottle.

With a couple of three-night hikes coming up and plans for a big one at the end of the year, it seemed like to perfect product to try.

I Use This Filter Bottle Everyday! 
What I found though is - I don't use it for hikes. I mean I do, but I actually use it all day, every day.
I first used it on a road trip south. It was great because I could refill it anywhere. I normally wouldn't (ever in a million years) drink water from the tap of a public restroom, or beach side shower. But the filter which comes with this bottle, filters out all the bad stuff, meaning I get clean, tasty drinking water from anywhere.

In fact, the filter is so powerful it can filter water from any non-salt water source.

So I'm drinking more than enough water, I'm not contributing to the landfills by constantly buying bottled water, and surprisingly I remember to bring it everywhere with me. I have it next to me more than my phone lately.

Furthermore, because of the amazing super powers of the Sagan Journey Filtered Water Bottle – I gave my BF one. He never drinks much water during the day. On cue every night around dinner time he can be found standing at the kitchen sink guzzling glass after glass of water because he is borderline dying from dehydration.

Since I gave him the bottle, he has actually been using it. He has said so himself - he is drinking way more water.

But what's more impressive, he takes it everywhere with him, and remembers. This is the guy that loses his car keys at least once a day (I'm not even over exaggerating here), but he remembers the water bottle. (I've considered taping a spare key to the bottom of his bottle.) 
The Filter Bottle Removes Bacteria, Virus, Giardia
So, the Sagan Journey Filtered Water Bottle comes in Orchid and Blue. With a 24 fl oz capacity, the bottle filters 250 gallons or 946 litres of water, removing bacteria, virus, giardia, cryptosporidium and other toxins you don't want to be drinking.

The bottle is awesome - if you hurry you'll get it on sale for $64.99 (us), plus take off 20% for a limited time. Replacement filters are available.

Find out more about the Journey Filter Water Bottle and other cool water filtration products from Sagan."