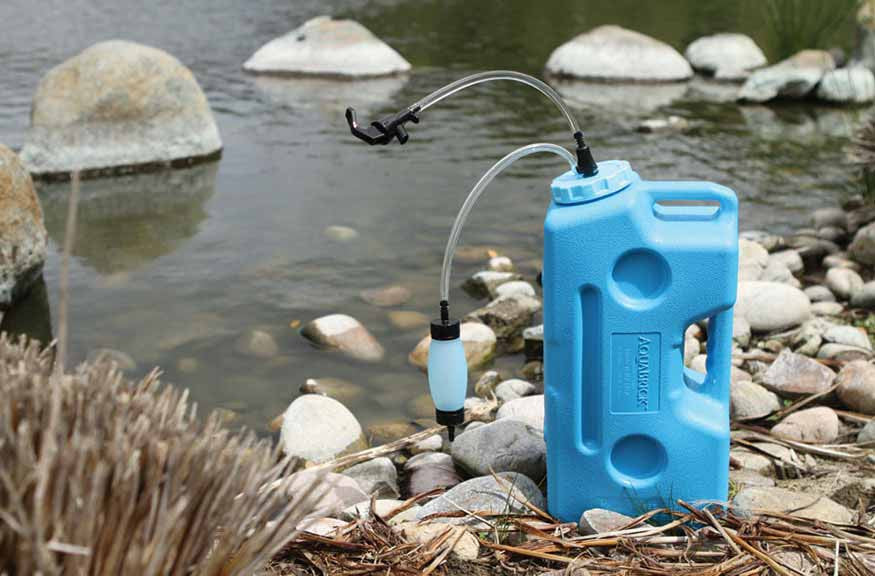 Mar 19, 2016
0 comments
by

April Muir
When you walk into an emergency preparedness, sporting goods or swimming pool store and see the AquaBrick™ Water Filtration System sitting on the shelf – you may be somewhat underwhelmed.
Although we have worked hard to choose the exact right blue, made sure it's strong and durable, easy to handle and use, as well as (most importantly) had it independently tested over and over again to guarantee it is a super effective water filtration system – you really won't get too excited about it. That is – until you see this.
How it Works & What it Removes
Take a look at what the AquaBrick™ Water Filtration System removes from any non-salt water source. Even turbid flood water which may be floating down your street. It removes virus, bacteria, cryptosporidium, giardia, and many other toxins and chemicals. It also removes chlorine, making your swimming pool water safe to drink – just in case. What an amazing little emergency preparedness gem.  Having one of these on hand could save your family by enabling you to purify and serve up water from your swimming pool. Now how many gallons of drinking water are we talking?  This is a great item to have in your survival kit. The AquaBrick™ Containers can store water now – or are ready to start filtering when the need may arise.
This simple diagram shows exactly how the AquaBrick™ Water Filtration System Works. The multi-colored water drop shows how many gallons it purifies for each element. (This image shows the DuraFlo™ 550 Water Filter, but the Journey™ Water Filter is equally effective for up to 300 gallons.)
Fast and Easy Assembly
A very simple a process it is to get clean, clear drinking water.
– Attach Straw and Filter, Water Flow Spigot and Hand Pump to the AquaBrick™ Cap.
–  Fill the AquaBrick™ Container, as designated, with water.
–  Insert filter with straw down into AquaBrick™ Container. Screw on lid
–  Squeeze the handpump to pressurize container.
–  Press the spigot and get a glass!
It's really that simple. AquaBrick™ Water Filtration System takes any source of non-salt water and makes it safe, clean, pure drinking water.