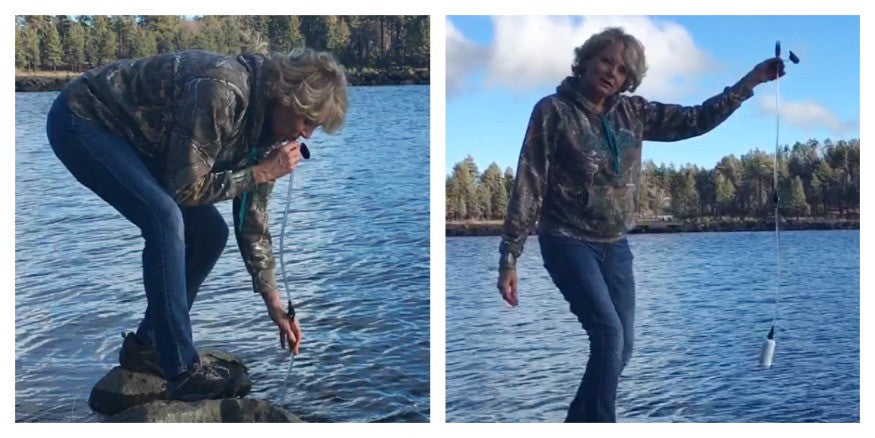 Mar 22, 2017
0 comments
by

April Muir
Thirsty? Can I offer you a drink of lake water? I drank Cuyamaca Lake water using our XStream™ Straw Water Filter - and was so blown away by the refreshing taste of the water.
I never thought I would be up for testing this type of equipment - drinking out of lakes, ponds, rivers, etc., but here I am! I know our development team has worked hard over the past 4 years to perfect these water filters, so I decided to give it a go!  
Since we're all more than ready for spring - camping, hiking, back packing, fishing and just gettin' outdoors, I thought I'd post this awesome video of a city girl drinking out of lake with a straw filter (LOL) and demonstrate the XStream™ Straw Water Filter.
What is the Best Water Filter Straw? 
Wondering - what is the best filter straw? Do you have questions about what manufacturers have the best portable water filtration systems for all of your outdoor adventures? Well, I have to toot our horn and say that Sagan is the BEST - because we've done our homework, and lot's of it! 
Has Your Filter Straw Been Tested?
All Sagan water filters have been TESTED and PROVEN by independent water laboratories (not affiliated with us) until their "End of Life" - the point at which they cease to work. We've also been certified by AquaVeritas.org - an organization formed to keep an eye on the personal water filtration industry. 
Sagan Filters remove:
99.9999% Bacteria
99.99% Virus
99.99% Giardia / Cryptosporidium 
Share Water with this Filter 
Another great reason I consider the XStream™ Straw the best water filter straw you can buy is this: Not only does the straw extend from 2 to 4 feet - so you can stand up and drink - it comes with a handy pump, so you can wash food, fill water bottles and share clean water with your tribe. Plus, the water filtered through the straw really does taste amazing!

The XStream™ Straw works for up to 250 gallons of water - and has been tested using the most contaminated water - the equivalent of sewage water. So you can be confident you're drinking safe water from any non salt water source. If you're using a filter claiming to purify 100,000 gallons - think about it. They would've had to test 100,000 gallons of gross, contaminated water to make that claim. Ask to see their test results. You really want to see those results before trusting your family's safety to any water filter. Sagan's water test results are posted on our website.

So grab a couple of XStream™ Straws and get out there. The filter straws is probably your number one 'must have' for survival kits, too. And with Dad's Day coming up, well, we've got you covered if your dad / hubs etc. is an outdoor fella or survival guy!