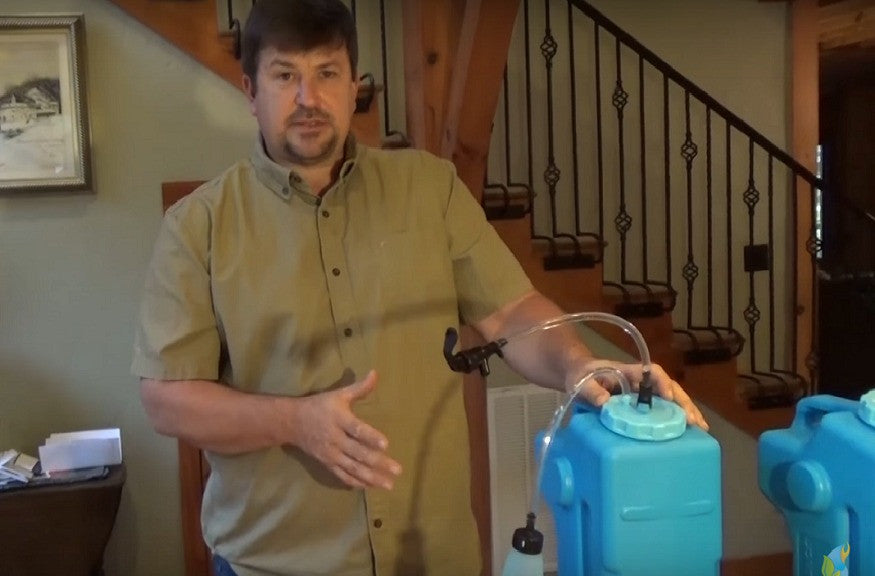 Mar 04, 2017
0 comments
by

April Muir
If you're looking for a water filtration system you can trust - one that meets drinking water quality standards - you just found it.
We appreciate this thorough review by Scott Hunt of Practical Preppers. He points out all the awesome features about the AquaBrick™ Water Filtration System and AquaBrick™ Storage Containers. Check it out>
The AquaBrick™ Water Filtration System removes bacteria, virus, crytosporidium, giardia, lead, fluoride, chlorine, arsenic, chromium and tons of other toxins you don't want to be drinking. In fact, the AquaBrick™ will filter ANY non salt water source and make it into safe drinking water. The very effective water filter inside - making sure the water you drink meets EPA drinking water standards - is the DuraFlo™ Filter. 
Hunt points out that he has looked at Sawyer®, Life Saver®, Life Straw®, Doulton®, and Berkey® water filters. Some companies out there are claiming their filters can filter 100,000 gallons - a million gallons, etc., but states there is really no way to prove that. 
Hunt notes that Sagan has leveled the playing field by having independent water filter laboratories test all Sagan water filters until their "End of Life" and mentions again filters claiming to do 100,000 gallons of water etc., is just not realistic. There is no way they meet the EPA (Environmental Protection Agency) drinking water standards. 
End of Life Water Filter Testing - In a Nut Shell
He really is impressed by the "End of Life" testing done on all Sagan Water Filters. This has never been done before. End of Life is a way to prove your water filter meets safe drinking water standards provided by the EPA. The EPA does provide very specific drinking water standards, but due to low budget and limited man power the standards are not enforced. Bad news for consumers.
Here's what Sagan does: 
Independent water laboratories - meaning they are in no way affiliated with Sagan - filter water which has been thoroughly contaminated with bacteria, virus, protozoan, etc., (the equivalent of sewer water) through the filter; then bombards the water with more contaminated water every 25 gallons. They keep testing and re-contaminating the water until the filter reaches it's "end of life" - meaning it no longer is effective. So you know exactly how many gallons of water the AquaBrick™ will filter and the exact percentages of bacteria, virus, protozoan, etc., it will remove.  The AquaBrick Water Filter removes 99.9999% of Bacteria, 99.99% of Virus, and 99.99% Giardia/Cryptosporidium and is certified with Aqua Veritas - the Micro Water Filter Quality Association.
The AquaBrick™ water filter requires positive pressure to get the water to pump through. Just pressurize the container with the pump bulb and water quickly flows through the filter and out the spigot. The AquaBrick™ is one of the fasted flowing water filtration systems providing up to 1/2 gallon of water per minute. Since no electricity is required for the pump, take the AquaBrick™ on camping trips and all outdoor adventures. It's ideal to use in case of emergency, as it will even filter the turbid flood water running down your street. I use mine everyday to filter the numerous toxins out of my tap water!    
Kudos to the
AquaBrick™ Storage Containers 
Hunt also likes the featues of the AquaBrick™ Storage Containers (same container - no filter) and how sturdy, and easy they are to use. They hold up to 3 gallons of water and up to 20 lbs of food storage, and are ideal for emergency food storage. Hunt claims he prefers AquaBrick™ over WaterBrick® Storage containers due to issues with the Water Brick® handles. 
All Sagan water filters have gone through the same rigorous testing; all done by independent water filter labs. The water filter test results are posted the Sagan website. Sagan is also a member of Aqua Veritas - an independent company dedicated to providing the consumer with factual, tested and proven information on water filtration products on the market today. 
Hey Scott, we appreciate your very thorough review! Thanks so much!