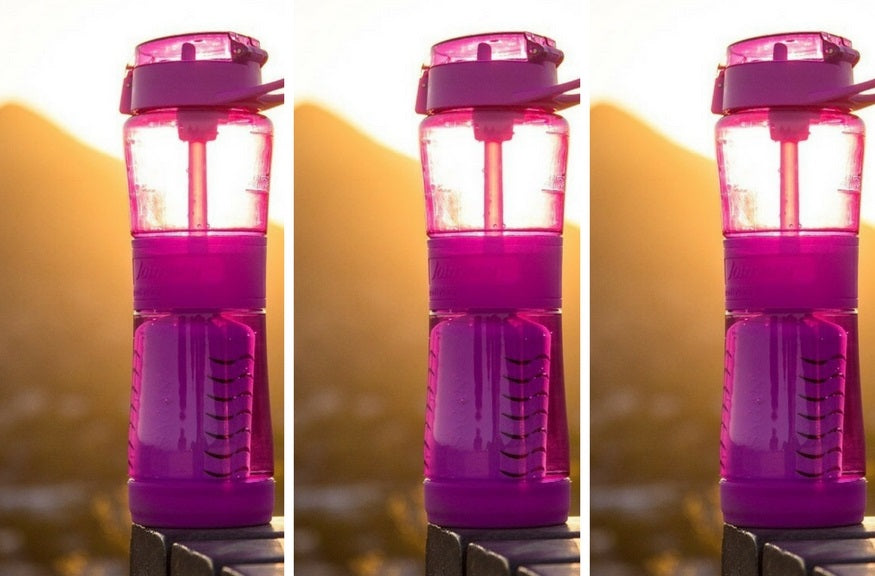 Aug 28, 2017
0 comments
by

April Muir
Water Filter Bottles for Travel
Water filter bottles could save your health – and your vacation! Due to the sporadic availability of potable water across the globe (and sometimes quite close to home), water filter bottles are a must for travelers.
Clean Water Availability in the United States
The recent drinking water crisis in Flint, MI only highlights an endemic problem: 41 of the 50 U.S. states have unsafe levels of lead in their water supplies. Many schools have unsafe drinking water, including 30 in Newark, New Jersey.
This is totally unacceptable and very scary. There is NO SAFE LEVEL of lead in water. The water your kids drink should not contain lead, yet the EPA will give you some song and dance about how certain water sources in your area have "SAFE" levels of lead. That's just not true. 

Whether you're traveling overseas or just taking the kids to the park, make sure all your loved ones have the safe and clean drinking water they deserve.
Availability of Drinking Water by Country
According to a 2017 report, over two billion people worldwide don't have access to safe drinking water. However, Switzerland, Canada, and the UK top the list of high-water-quality countries. The U.S. came in 7th, just ahead of Australia.

Water availability varies dramatically – not only among nations, but also states, provinces, and regions. When traveling abroad, you could find safe drinking water in one city and very poor water quality in the next. 
Here's a breakdown of where you're most likely to find unsafe drinking water sources. The facts are sad, especially for people living in these reqions - so if you are traveling to these areas be prepared! 

Countries with the Poorest Water Quality
#10 – Mexico
Famous for "Montezuma's Revenge," this country leads the world in bottled water use.

#9 – Congo

In recent years, Congo has doubled the number of its citizens with good water access.

#8 – Pakistan

Only the richest Pakistanis have reliable access to clean water.

#7 – Bhutan

Two-thirds of Bhutan's water supply is contaminated.
#6 – Ghana

This country provides basic sanitation to only 50% of its citizens.

#5 – Nepal

Roughly a third of the Nepalese people have no access to sanitary water.

#4 – Cambodia

The richest Cambodians can afford water delivery, but many others suffer.

#3 – Nigeria

This country has improved its water systems, but still has a long road ahead.

#2 – Ethiopia

Ethiopian water quality varies widely by region.

#1 – Uganda

Two-fifths of Ugandans live over 30 minutes from fresh water.
Drinking Water Isn't the Only Danger When Traveling 

In addition to water, various types of beverages you encounter can be contaminated. The CDC provides a comprehensive list of recommendations for travelers. Also, check out this list of food and water safety tips – drinking water isn't the only danger. It's pretty interesting. Some of the foods I would have avoided are on the safe list, while ones I would've tried are in the danger zone!
I was surprised to learn that bathing and swimming in certain areas can lead to health problems!
Best Travel Water Bottle for 2017
You shouldn't have to worry about the availability of clean water on your next vacation. Protect yourself and your family with a filter water travel bottle and enjoy your trip!

One of the best water filter bottles for international travel, the Journey™ Water Filter Bottle by Sagan Life, features a replaceable filter. This attractive, modern water bottle comes in both Sky Blue and Orchid.
Perfect Filter Straw for Outdoor Adventures 
The XStream™ Water Filter Straw is perfect for preppers, hikers, and backpackers. This convenient device includes a spray pump for washing hands, food, and cooking utensils. It measures two feet in length – and can accommodate a 2-foot extension! That's 4 feet of straw - keeping you up off your belly while drinking safe, clean drinking water from any non-salt water source!  
This photo taken in Cambodia by Feral Human Expeditions using the XStream™ Straw Filter. 

A Commitment to Quality - Sagan's Filters are Tested
Unlike many water bottle filter companies, Sagan commissions bacterial, heavy-metals, virus, protozoan, chlorine and fluoride tests from independent researchers.
The Journey™ Filter Bottle and XStream™ Straw Filter have been rigorously tested by water filter labs and proven to remove 99.9999% Bacteria, 99.99% Virus (yep removes virus - definitely important for travel abroad) and 99.99% Protozoan, such as Crytosporidium and Giardia... all culprits of Montezuma's Revenge! 
Whatever water filter system you choose - make sure you can see the test results, so you know your water filters are effective. Our water filter test results are on our website. Many companies out there will not post the results of tests; DO NOT TEST AT ALL ; and make false claims about what their filters will do!  Sad, but true.
We're dedicated to providing you and yours with the clean, safe water you deserve – wherever you roam! Safe travels!