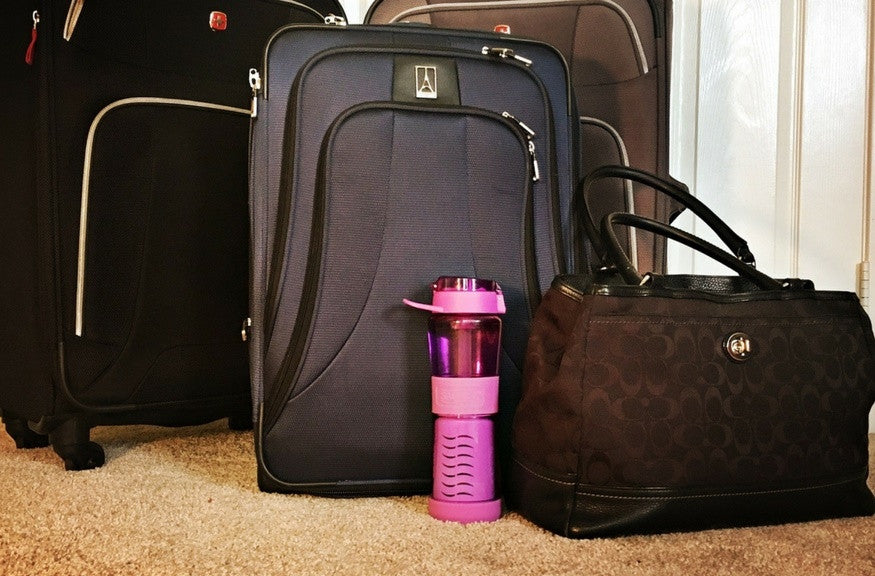 Apr 29, 2017
0 comments
by

April Muir
Ahhh, travel time, so exciting, but kind of a chore to prepare. When I travel, especially when air travel is involved, by the time I
Choose the appropriate wardrobe for the climate
Make sure I have all the accessories
Keep my bag under 50lbs
Have my hair and nails done at the latest possible minute
Line up kitty care givers
Put up my "out of office" email response
Make sure all the bills are in order
and cross my fingers that I didn't forget to dot an "I" on a big work project…
...WHEW, I need a vacation! 

Travel Filter Tips to Stay Safely Hydrated
Obviously, my number one tip, since I want to be healthy (and water is my business) is - STAY HYDRATED! We are all pretty aware of this and know it does not include Starbucks or all the wine you can drink on board - but pure clean water. Hydration is key – and not just when traveling, but every day.
If you stay hydrated everyday you will see a huge difference in how you feel. Your body (especially your brain) is mostly water, so to keep it functioning give it what it needs – WATER! If you feel a lull and think you're hungry – chances are you just need more hydration. A great solution to make sure you're getting pure, clean water into your body - at home and while traveling – get a good travel water bottle with filter. I highly recommend the Journey™ Filter Water Bottle by Sagan. I love this thing! 
Invest in a Good Travel Filter 
The Journey™ Filter Bottle is ideal to use every day and absolutely the best investment for your trip. The Journey™ Filter (used inside the bottle) is one of the most effective portable water filters for travel and everyday use. So, get the best travel filter – one YOU KNOW will work. Staying hydrated while traveling is important - and a huge factor in alleviating jet lag – ugh, so miserable! I whole-heartedly recommend this water filter and use it myself.

Why the Journey™ is the Best Travel Filter and Everyday Water Filter              
I NEVER drink tap water – even at home – so why would I drink it in other cities or countries. Let's face it – when water magically shows up at any tap, anywhere – you just don't know where it's been. Think about it. Tap water may be checked at the municipal water source, but then travels through hundreds of miles of pipes, picking up fiendish little friends as it flows… bacteria, arsenic, lead and if you're going out of the country – this could include virus. Not good.
The best way to avoid Montezuma's Revenge is with the best filtered water bottle for travel. You've looked forward to this trip for how long? Spent how many thousands of hard earned dollars to get here – to go out and have fun, not be stuck in a stall somewhere with horrible cramps and diarrhea. No thank you!
I Prefer My Own Water Filter for Travel - Not Bottled Water
There are a lot of good reasons I prefer a good personal travel water bottle instead of bottled water.
Cons of Bottled Water
1. There are enough empty plastic water bottles to circle the earth several times. We all know this and many of us still grab bottled water on the road or every day to avoid tap water.
2. Finding a store to buy a bottle of water! This can be inconvenient and out of the way to say the least – especially in foreign countries. You're really thirsty – where is that store? AGUA Por favor 😊??
3. Leaching: This is a pretty big deal and a lot of people still look the other way when justifying drinking bottled water. Those flimsy plastic bottles leach toxic chemicals into the water. Even if it was super purified when first put into the bottle – uh, how many hot trucks has that little water bottle sat in for days on end? How long has it been in that bottle? Yea, a lot of leaching has occurred. No way around it. The toxins come from the plastic bottle itself. So, next time you pick up bottled water or give one to your kid – think about the leached toxins you're putting into your system or theirs. Not good.
4. Sad truth - Many bottled water companies just bottle tap water. Yup. What a scam. You think you're getting safe bacteria free, fluoride free water, but it may just be good old tap water in a nicely labeled bottle. So, you just paid $2.50 for a bottle of water while you could have used the local drinking fountain for the same stuff.

Pros of Using Portable Water Filters for Travel
1. The Journey™ Filter Bottle is a Great Water Filter for Travel
Using the Journey™ Filter Bottle as your travel water filter bottle, you can fill from any non-salt water source. I take my Journey™ Water Filter bottle to the airport – drink 'til empty before going through security – and then stop at a water bottle fill station, water fountain or even the airport bathroom sink! I would never do this in a million years with any other travel filter, but I have read the water filter test results of the Journey™ Filter and know what this travel water filter bottle can do! Tested and proven by water laboratories not affiliated with Sagan in any way shape or form!
2. What Is the Best Water Bottle Filter for International Travel?
The #1 reason the Journey™ Filter Water Bottle is such a great travel filter abroad is it removes virus! Yes – and this is absolutely imperative in countries where human feces may somehow, someway may have compromised the water source. Like I said… avoid Montezuma's Revenge at all costs. Invest in a travel filter you can trust.
3. Get a Travel Filter you can Take from Airport to Outdoor Adventures
Once you get to your destination, keep using your Journey™ Bottle travel filter for all your adventures. Whether you're visiting old castles in Scotland or out in the bush in Australia you can dip your Journey filter bottle into any non-salt water source and drink clean refreshing water. It's pretty awesome.
4. Fill up Your Journey™ Travel Filter Bottle in the Hotel Bathroom 
In the morning, before going out, just fill up your water bottle in the bathroom sink – and go! I have enjoyed taking the Journey™ Water Filter Bottle on cruises. I certainly use it on board (amazing how many germs are passed around on those boats) as well as on all my excursions. Refill during day - from any non-salt water source. The Journey™ Bottle comes with a super easy – carry; easy – drink lid, so I don't mind carrying it with me or fastening it to my purse or back pack!
5. Take your Journey™ Water Bottle Into Restaurants
At home or wherever I travel I ALWAYS take my Journey™ Filter Bottle into restaurants. Don't want to be drinking their tap water. I either pour the glass of water they serve me into my trusty travel filter bottle or ask them to fill it from their water source. They always are willing to accommodate my wishes!
6. Get an XStream™ Straw Filter if You Want to Share Water
If you're planning a family trip and want to save a little money and get a travel filter the whole family can use, I suggest the XStream™ Straw Water Filter. With this handy straw water filter for travel you can share water with the whole crew; fill water bottles, use it to wash hands, wash food, etc. The handy pump which comes with the XStream™ Straw is the key to let you to share water. Any time anyone needs water for any reason, use the XStream™ Straw pump to wash and water whatever you need. It uses the same Journey™ Filter as the Journey™ Filter Bottle – only with a straw and pump.
A lot of folks look at the XStream™ Filter as an outdoor water filter for camping, hiking, backpacking, kayaking and all those fun things – which it truly is - but hey, this is also the best travel water filter, too. There are many opportunities you may need to filter water in your travels. Not comfortable washing your hands in Cambodia – let alone drinking the water? Don't blame you, but with the XStream™ Straw you're bases are covered.
All Sagan Water Filters are Tested To Their End of Life
All Sagan water filter products have been tested, tested and retested until their "End of Life" to make sure they do exactly what they claim. This just means they test the water filter with super contaminated water - over and over again - until it no longer works. Hence - End of Life of the filter. Check out our website; especially the Water Filter Test page. You'll be impressed. See if the water filters you use have done tests on their filters. Without testing – who really knows?

Be sure to follow us on FaceBook, Instagram, Twitter and Pinterest for the latest on Making the Unthinkable Drinkable™!