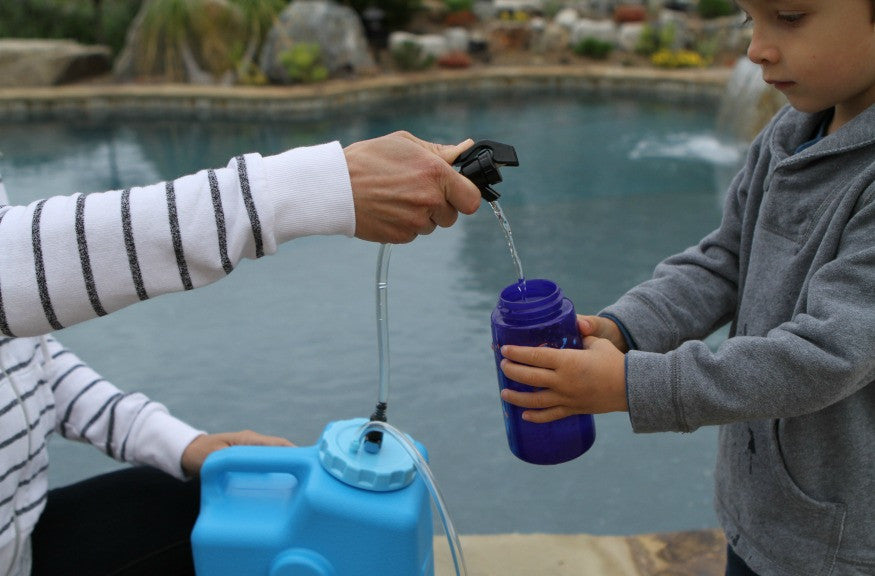 Jun 10, 2015
0 comments
by

April Muir
Sagan Life - Providing Clean Drinking Water Anytime, Anywhere
Healthy Water at Home
The health benefits of drinking water are huge. The human body is 60% water, so keeping your body hydrated with healthy water is about the best thing you can do for yourself. Our focus at Sagan is creating the ultimate state-of-the-art water filters for you to use everyday, while camping, hiking, fishing, traveling and in case of emergency. 
All of our water filters have been uber tested by water laboratories not affiliated with us in anyway. So you can be confident you are getting the top of the line water filters that do what we claim they do! 
Start making sure you have healthy drinking water today. Here's a few of our top tips on how to always provide clean drinking water for your family. 
Everyday Use
Home: The AquaBrick™ Water Filter can be used in your home to purify undesirable tap water used for cooking and drinking. There are amazing health benefits which come from drinking clean water – especially pure, clean, non-toxic water. This one simple step saves your family from ingesting a wide variety of environmental toxins, such as heavy metals, pharmaceuticals, industrial pollution, fluoride and high levels of chlorine.
Safe for Baby: Mixing baby formula using clean water for drinking significantly reduces the ingestion of lead, high levels of fluoride and other dangerous toxins. Using the AquaBrick™ Water Filtration System ensures your baby is getting clean drinking water in their formula. I can't think of a more important time in your baby's life to make sure they are getting the purest water possible. The

AquaBrick™

is also the most economical way to obtain clean drinking water.
Never leave home without my Journey™: My Journey™ Filter Water Bottle is my constant companion. I can fill it up using any non salt water source and know the water I'm drinking is fresh, clean drinking water. I take everywhere, from the grocery store, to the gym and especially when traveling to anywhere in the world! Great to fill up after you go through security at the airport - you're all set. 
Outdoor Adventures 
Camping: Next time you pack up the gang for a camping trip, take along the AquaBrick™ Water Filter, some Journey™ Filtered Water bottles, the XStream™ Straw Water Filter and rest assured the nearby lake, river or stream will provide fresh clean water to drink for all your camping needs; cooking, drinking, etc. The AquaBrick™ Water Filter, Journey™ Filter Water Bottles and XStream™ Straw can purify any non-salt water source and provide clean drinking water. 
Boating: Keep the portable AquaBrick™ water filter on board so you always have fresh clean potable water; or keep an

XStream

™

Straw handy and just drop over the side of the boat and drink! 

While Sagan filters do not desalinate water, they can provide pure, delicious drinking water for your crew from all freshwater lakes, rivers, and streams. I've had lake water through the XStream

™

Straw - it was awesome! 
Outdoor activities and more: Even a family picnic or outing of any type will be easier if tubs and bottles of water don't need to be lugged in for cooking, drinking and washing. The AquaBrick™ water filter is easy to transport and filters any non salt water source into refreshing, clean drinking water. We think it's pretty awesome.
In Any Emergency - Clean Drinking Water is #1
Having an emergency supply of food storage and the ability to obtain clean drinking was is an essential component of your family's emergency preparedness plan. If disaster strikes and truck transportation is disrupted, food and water supplies will be emptied from local stores in a matter of hours. For that matter, if disaster strikes, it may be impossible to even get to a store.
Potable water supplies are quickly disrupted when disaster strikes. All areas of the world are plagued with some sort of reoccurring disaster: whether it be wildfires, earthquakes, floods, hurricanes or tornadoes. Even a simple power outage for a few hours will leave many cities without drinkable water.
The coolest thing about the AquaBrick™ Water Filter is its versatility. It provides clean drinking water from every non salt water source - be it the flood water running down your street to your swimming pool water. Yup - you can even drink your swimming pool water - pretty cool.
When the Water Runs Out - You'll Be Water Prepared
Water is the most overlooked item when preparing for an emergency. The benefits of clean drinking water cannot be overlooked as the most critical component of a complete emergency plan. A healthy adult can only live three to four days without water. With Sagan Life Water Purifiers, any available surface water can be turned into fresh pure clean drinking water.
Making the Unthinkable - Drinkable