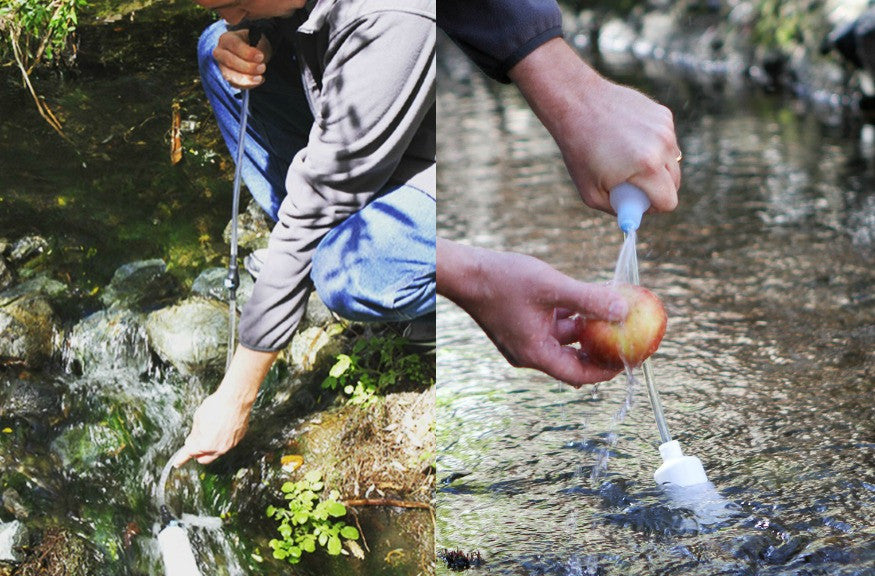 Feb 10, 2017
0 comments
by

April Muir
The XStream™ Water Filter Straw - One of the most useful products you can own - if you're into camping, hiking, backpacking, fishing, hunting, any and all outdoor adventures and survival.
Top 10 Reasons this Water Filter Straw Rocks 
Here's the 10 top reasons this straw water filter stands alone and should be your #1 choice when purchasing a filter straw.

10. Super lightweight for hiking, backpacking, etc. The XStream™ Straw Water Filter only weighs 5 oz.
9. No need to get on your belly. Water is easily accessible – without laying on your belly, or getting on your knees as the XStream™ has a 2-foot straw - which easily extends to a 4-foot straw.
8. The XStream™ Straw removes virus - unheard of by other filter straws.
7. "Quick connect" components make the XStream™ easy to attach and release.
6. The mouth piece has an on/off valve and comes with a handy, sanitary cover. The mouth piece is NOT A BITE VALVE is very comfortable and easy to drink through.
5. The Straw Water Filter comes with the XStream™ Spray Pump – making the XStream™ Straw the only filter which allows you to SHARE WATER WITH OTHERS.
4. The XStream™ Straw Spray pump works FAST! Fills water containers with safe potable water in minutes.
3. Simple to let dry and store – no problem.
2. This filter straw is pretty bullet proof – you can drop it; freeze it; use it in water up to 110 degrees (sounds like a nice hot shower to me ;))
1. The #1 reason the XStream™ is undoubtedly the best water filter straw: It's been tested by independent water filter labs and PROVEN to remove bacteria (this includes E.coli) virus, and protozoan for up to 250 gallons. The Water Filter Test Results are on our website.


Other filter straw products DO NOT remove virus and are unable to SHARE water – two great advantages the XStream™ has over other all water purification straws. Plus - all Sagan water filtration products are made of high grade medical tubing to prevent the growth of algae.
The Sagan XStream™ Straw Water Filter - undoubtedly the best water filter straw for you, your outdoor life, emergency kits, go bags and car kits.